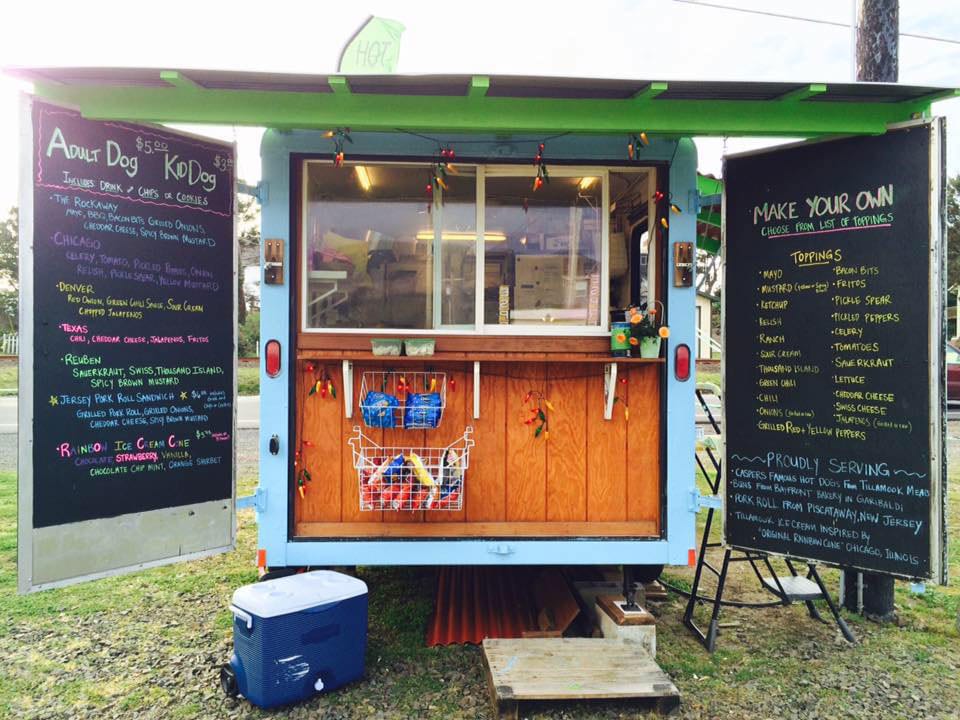 July 19th is National Hot Dog Day – and all across the nation people are observing by, you guessed it, enjoying a juicy hotdog.
Whether you prefer them grilled, boiled, pan-fried, cooked on a stick over a campfire or even dipped in batter and fried, hot dogs are a favorite summertime staple. They are loved by children and adults alike and there is no wrong way to eat one. Whether plan, or smothered in ketchup, mustard and relish, each hot dog is as unique as the person eating it.
So if you're in Rockaway Beach today, stop by D'Viener Vender and celebrate National Hot Dog Day properly.
D'Viener Vender features "The Rockaway," your choice of Casper, Polish or vegetarian dog topped with mayo, BBQ sauce, bacon bits, grilled onions, cheddar cheese, and spicy brown mustard. They serve Miller's Old Fashioned Beef Franks, buns  baked fresh from Bayfront Bakery in Garibaldi, and pork roll from Piscataway, NJ. Oh, and Tillamook ice cream of afterwards. They even make a mean milkshake.
Want to try out your creativity? You can also build your own dog and top it with any of their 24 toppings.
Located at N. 6 and Highway 101, D'Viener Vender is open 11 a.m. – 7 p.m.
Prefer your dog dipped in batter and fried up to a golden, crispy perfection? Head south of Rockaway Beach to the Original Pronto Pup. Try a 100% beef Original Pup if you're feeling like a classic. There's even a footlong version. Or, switch it up a bit and go for a Chorizo-battered Spicy Pup. There are even vegetarian options so that everyone can celebrate #nationalhotdogday! How does a batter-dipped Veggie Pup sound? Try a zucchini or filled pickle instead. Yum! Add a scope of grace, chili or cheese to any order.
Before you leave, be sure to ride the giant corndog.
The Original Pronto pup is open Thursday – Saturday from 11 a.m.-7 p.m. and Sunday from 11 a.m.- 4 p.m. They're located at 602 S. Highway 101.