2022-2023 City of Rockaway Beach Off-Season Tourism Marketing Grant
The City of Rockaway Beach announces $35,000 of available grant funding for businesses serving visitors in the Rockaway Beach area. Eligible applicants must operate in the Rockaway Beach area or serve visitors in the Rockaway Beach area and be a business or non-profit engaged in tourism activities (per state law for use of lodging tax).
Maximum grant amount request: $3,000. No match required.
Deadline for applications is Monday, February 28, 2023 by 11:59pm
Questions? Call Amy Blackburn, Deputy Director at 503 842-2672 x3
Individual writing assistance is available to you. Please email amy@tillamookcoast.com to schedule a Zoom meeting to discuss your grant. (Please watch the grant overview video first.) (The city has contracted the grant process with Tillamook Coast Visitors Association.)
Download the grant application
(Be sure to "Save As" to your hard drive. This is a fillable PDF application form.)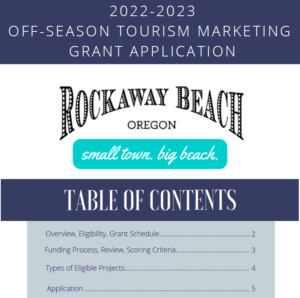 Grant Writing
(Please note: The pre-recorded webinar may have incorrect due dates listed, please refer to above grant application for accurate deadlines!)
2022-2023 City of Rockaway Beach Signage Grant Match
New!
– City of Rockaway Beach businesses are eligible for up to a $3,000 grant for business signage. Submit a signage grant application to Tillamook Coast Visitors Association showing the $3,000 match. If approved, grant funds will be awarded through the City of Rockaway to offset TCVA's requirement of a 50% match. Applicants for the signage grant funds can also apply for a marketing grant. Open on an ongoing basis until funds are exhausted. See application materials
HERE.