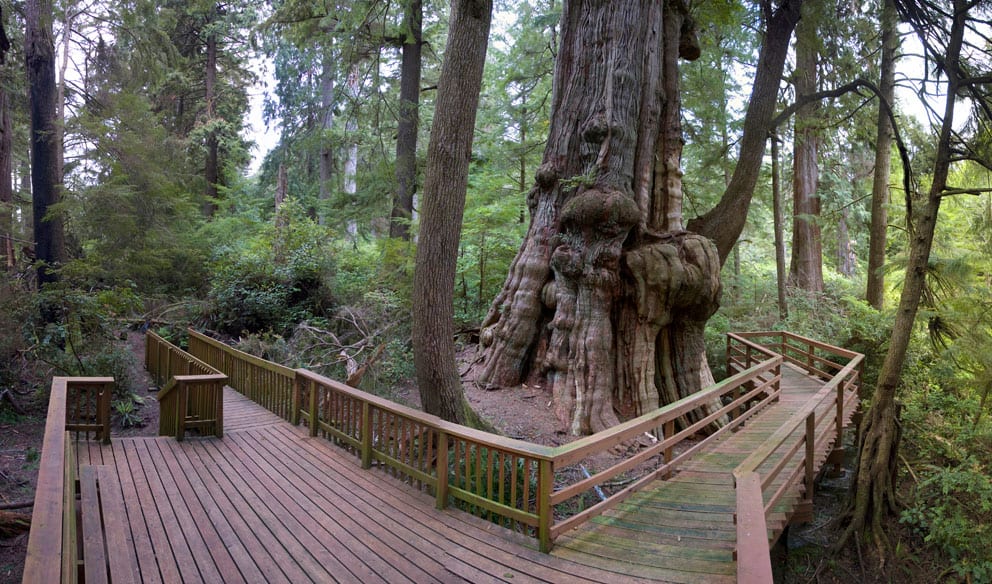 Most things in our beach town are small – and that's the way we like it. We love our small cafes; small shops full of eclectic gifts and tiny treasures; small parks, and small crowds.
But one thing in our tiny coastal village isn't small at all. In fact – it's been described on more than one occasion as "mammoth." It measures 154 feet tall and 49 feet in circumference at the base, making it by far Rockaway Beach's largest citizen – and one of Oregon's largest trees.
If you can manage to find the somewhat hidden trailhead, you'll only have to travel a little less than a mile down a fairly easy path that winds through an old-growth Cedar wetlands preserve. The trail ends at a boardwalk platform that wraps around the giant Western Red Cedar, allowing hikers to see it from every angle.
In 2008, a group dedicated to keeping the state and national tree registries updated brought out their measuring tools to try and get more accurate dimensions than what was on file at the time. Using non-invasive methods and a system of ropes to get to the top, this group, known as Ascending the Giants, took more than six hours to properly and safely measure the tree.
They discovered that the tree was much larger than any other of its kind in the entire state. In fact, once measured, the Western Red Cedar earned a total of 756 points, which was 130 points more than the previous Cedar state champion.
To see Rockaway Beach's largest treasure for yourself, take Washington Street from Highway 101 and head inland toward Island Street. Take a left on Island Street and there you will find the trailhead.
Just remember to be respectful when visiting this 46-acre old-growth forest and follow proper hiking etiquette. Above all, do not leave any trash or debris behind.