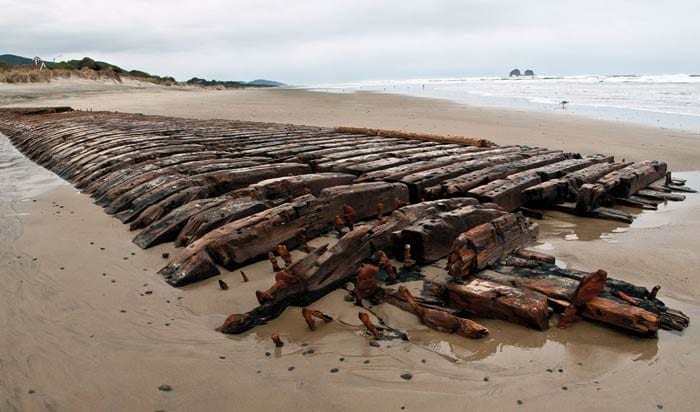 Every now and then the sands on the beach shift just right, revealing a shipwreck more than 100 years old.
Only a few feet beneath the sand are the last remaining pieces of a harrowing shipwreck that claimed the lives of eight crewmen.
The Emily G. Reed, a 215-foot sailing vessel, ran aground in 1908 on an unusually cloudy Valentine's Day morning after being out at sea for 102 days. It was headed for Portland from Newcastle, New South Wales, Australia. The Captain, his wife, and four crewmen managed to survive as the ship broke apart and swam ashore at low tide. Four other crewmen, not realizing how close to shore they were, climbed into a lifeboat and drifted north. Three of them were found 200 miles away; the fourth crewman had died.
For several years, the remnants of the ship were a staple along the beach, until the shifting sands reclaimed them. Now, the Emily G. Reed only makes an appearance every few years, and one never knows how long it will stick around before descending back underneath the sands where it is kept safe from the weather.
Photographs are encouraged, but taking any piece of the ship is strictly illegal.