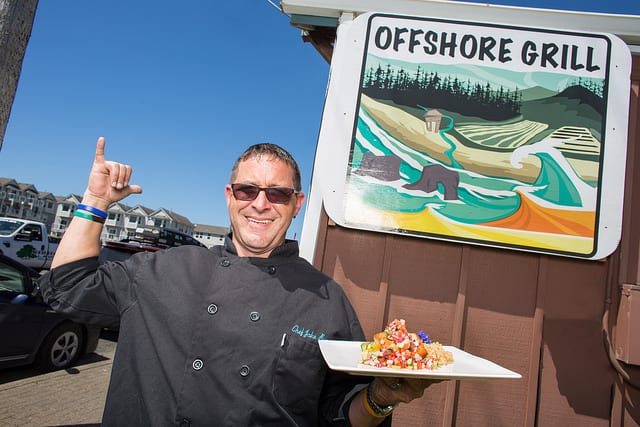 Jake Burden, the owner, and chef of The Offshore Grill has two major things going for him: he's a fourth generation Tillamook County resident, and he is highly-trained in the hospitality industry with an extensive background working both in Denver, Colorado, and Portland.
And, he's successfully taken both these things to create a world-class dining experience right here in Rockaway Beach.
"One of the biggest things my wife and I hear is that we are putting Rockaway Beach on the map," he said.
So what is his secret, exactly?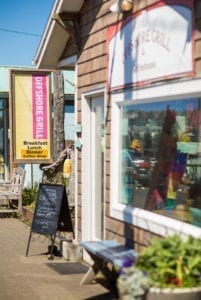 Jake only uses fresh, locally-grown ingredients in his cuisine.
"The resources and the agriculture available in this county are insane," he said. "There is a huge movement right now where people want to be more connected to their food, and with what we have available in Tillamook County it's amazing more people don't take advantage of it."
Basically, if it's available locally, Jake is serving it somewhere on his menu. And when the seasons change, so does the ingredients he uses.
"As the agriculture changes, I change," he said. "Our menu is always updated with the season so you know you're getting the freshest possible choice."
Choices like produce from Brickyard Farm, DeNoble Farm, seafood from Community Supported Fisheries, fresh-caught oysters, and more. Some are farmers he's known for 20 years, and others contacted him and asked how they could get their products on his menu.
"I want to get as many small farms involved as I can," Jake said.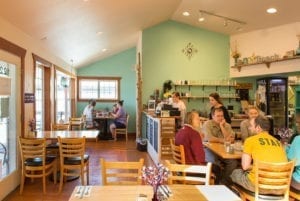 It's a trend he saw working in Portland. "That's what Portland was about a long time ago and still is. So I took what I learned there and brought it to this huge heartland playground of agriculture."
The timing, however, was nothing short of predominant. Jake had moved back to the coast in 2003 but didn't take over as proprietor of The Offshore Grill until spring of last year, after his son had just started the last phase of his leukemia treatment in Portland.
"With his illness, you don't know what your schedule is going to be," Jake said. "Anything can happen on a dime."
Right at that time, the Offshore Grill's former owner, Gloria Robbens, showed up on Jake's doorstep and asked if he was interested in taking over the business. "My wife and I put our heads together, did some talking with family and friends and went for it," Jake said. "It kind of gave us a little bit more grounding. We can make our own schedule."
Their son's illness also had a huge influence on Jake's cooking. When his son was first diagnosed, all he could eat was simple, fresh foods.
"His body was really craving those fresh, organic foods," Jake recalled. "We started focusing all our cooking at home to using only the freshest, locally-sourced ingredients. So when the Offshore Grill became available, it all just kind of fell into place."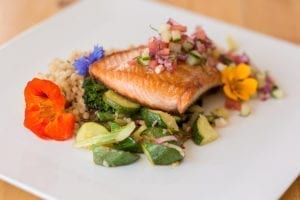 And, it's working like a charm.
"I think we are that local place that everyone loves to go, but we've also turned into a traveling destination," Jake said. "I think that having my degree in hospitality management, being from this area, and working in the gourmet department of Portland mixed with some big corporate experience has really helped."
The Offshore Grill serves three meals a day, with a full-service coffee house downstairs. The coffee shop is open Wednesday – Sunday from 7 a.m. – 4 p.m. The restaurant is open from 8 a.m. – 9 p.m. Wednesday, Thursday, and Friday and from 7 a.m. – 9 p.m. on weekends.