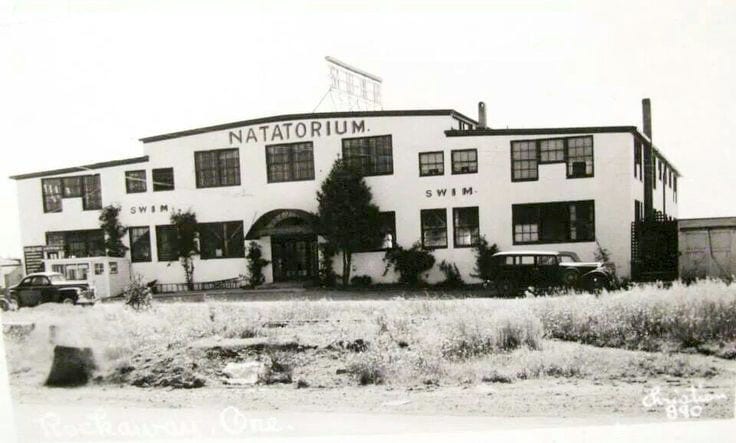 Many people familiar with the North Oregon Coast know – in some form – the story of Bayocean: the town that fell into the sea. Bayocean was hailed as the Atlantic City of the west – but, it had a bit of competition.
In the early 1920s, Rockaway Beach was becoming "the Jewel of the Oregon Coast" in part thanks to the remarkable two-story Natatorium that sat where the Rockaway Beach Wayside is today. The heated, ocean water swimming pool was 50 feet wide by 80 feet long, and included a wading pool, diving boards, and a central fountain that rained down warm salt water. The pool stayed open til 10 p.m. every night. 
For more than 40 years, "the Nat" was a Rockaway Beach landmark. It was a place where locals and visitors learned to swim – paddling back and forth in the warm salt water that was pumped directly from the ocean. 
From the second story, spectators could watch the swimmers below or enjoy the adjacent bowling ally. Eventually, the second floor was converted to a swinging night club, "The Panorama Room." Decades later, the Natatorium was also home to billiard tables and a dance hall – perfect for entertaining the area's youth. 
Natatoriums were popular along the coast, and could be found on Newport's Nye Beach; Seaside; and for awhile in Bayocean. In 1976, the beloved Nat was demolished, and above it the Rockaway Beach Wayside was constructed. The original pool still resides below the parking lot.