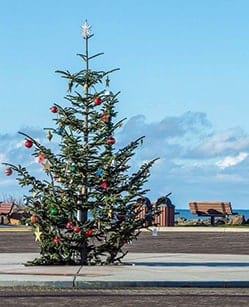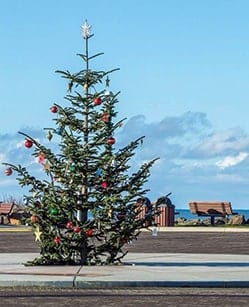 Thanksgiving week is officially here and for many that means the beginning of the holiday season. This is the time to spend with friends and family making memories and well, let's face it, making memories is what we're all about in Rockaway Beach.
So to get your holiday spirit off to the right start, here is a rundown of holiday events happening right here in Rockaway Beach that are sure to put a pep in your step and set your heart to singing Silver Bells. 
Tree Lighting Ceremony – Nov. 23 from 5:30 – 7:30 p.m. Have you seen the giant Christmas tree in the Wayside, yet? On Friday, we will be lighting the tree and welcoming both Santa Claus and Mrs. Claus on the steam-powered Candy Cane Express. You can either board the train in Garibaldi at 5:30 and enjoy hot cocoa and cookies, or join us in Rockaway Beach for their arrival. There will be time for children to tell Santa what they want for Christmas, and enjoy some caroling with the Neahkahnie Choir and of course the Tree Lighting Ceremony.
Annual Holiday Sale – Nov. 23. Following the tree lighting ceremony, get a jump start on your holiday shopping at the many unique stores here in Rockaway Beach, which will be staying open late (until 9 p.m.) offering great sales and deals.
Holiday Gift Fair – Nov. 23 & 24. For more unique holiday gifts for friends and family, stop by the Rockaway Beach Civic Center from 10 a.m. – 5p.m. on Friday and Saturday, and the SeaQuest Mall located at 111 S. Miller Street from 10 a.m. to 9 p.m. on Friday and 10 a.m. to 5 p.m. on Saturday. Vendors will be set up in both locations selling an assortment of holiday goodies so come find the perfect gifts for everyone on your holiday list. 
Breakfast with Santa at Grumpys Cafe – Nov. 24 from 8 a.m. – 11 a.m. That's right – the Big Guy himself will be having breakfast at Grumpy's Cafe on Saturday and he's sure to be in a good mood, what with the warm and delicious breakfast options to choose from. If you'd like a chance to butter him up and tell him what you want for Christmas, reservations are strongly encouraged.
Winter Clearance Days at Warehouse 10 – Now through Nov. 26. Our favorite warehouse is closing for the winter and won't be back until Spring Break! Join them now through Nov. 26th for their Winter Clearance Days with overstock blowout prices and a garage sale. Save 25% on Michel Design Works Soaps, Magnolia Candles by Joanna Gaines, Jewelry, Surf's Up Soy Candles, Turkish Towels, handmade signs, wall decor and more.
Children's Christmas Celebration at Simply Charming – Dec. 15; 10 a.m. – 6 p.m. Santa just can't get enough of Rockaway Beach, and that's why he's coming back on Dec. 15 at 12 noon at Simply Charming. But that's not all – the first 100 kids ages 10 and under will receive a free gift, and they'll have fun activities all day long like the Children's General Store, set up for kids to buy presents for their loved ones (prices from 10 cents to $1), free photos with Santa, light holiday snacks, hot cocoa, hot cider, coffee, door prizes, caroling, and holiday music with a special appearance from the Salty Strings Ukulele Group.
Be sure to put 'A Visit to Rockaway Beach' on your Christmas list this year.