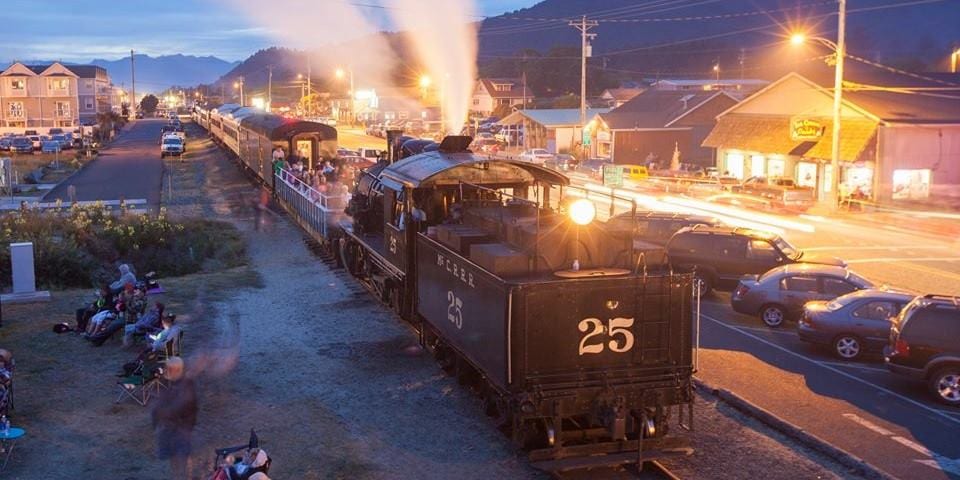 If there's one thing we take pretty seriously here in Rockaway Beach, it's celebrations. We're pretty well known for our 4th of July parade and fireworks and of course the ever-popular Kite Festival.
So it's no surprise that the holidays are just as unique in our tiny town, and we go all out every year. Don't miss any of the fun this time; join us in Rockaway Beach for a spectacular holiday season.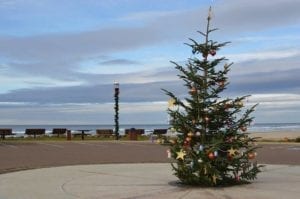 Once again, this holiday season won't disappoint. The Oregon Coast Scenic Railroad will begin its Candy Cane Express season the very night of our annual Lighting of the Christmas Tree at the Wayside. This special, round-trip excursion by steam train will leave Garibaldi at 5 p.m. and arrive in Rockaway Beach in time for the remarkable tree lighting ceremony. Guests on the Candy Cane express will be treated to cookies, hot chocolate, and a visit from Santa Claus while on the train. Click here for tickets.
Then at 6 p.m., we light the tree! Come early to help decorate, and of course enjoy live music to celebrate the season, and refreshments. Santa Claus will even stay awhile before he heads back by train. Remember that we are entering the winter months here on the coast, so bring your extra-cozy coats and maybe even a warm scarf. There is something particularly magical about enjoying a Tree Lighting while the ocean waves clap in the distance, and coastal winds nip at your nose. Stay for an extra cup of hot chocolate to keep warm.
The Lighting of the Christmas Tree is a town-wide celebration, and many of our shops and stores stay open late to accommodate shoppers who are looking for a special gift or surprise, with many things on sale. It's a great time to visit your favorite spots, or discover a new one. 
And don't forget to stop by the Holiday Gift Fair at Rockaway Beach City Hall, where there are even more unique vendors, refreshments, and everything you need to put yourself in the holiday spirit. The Holiday Gift Fair will run Nov. 24 – Nov. 25 from 10 a.m. – 5 p.m.
Last but not least, bring the children for another visit from Santa Claus on Dec. 9 from 6:30 – 8 p.m.- this time at the Rockaway Beach Fire Hall. Cookies, hot chocolate, coffee, and a ride on a real fire engine make for a spectacular evening.