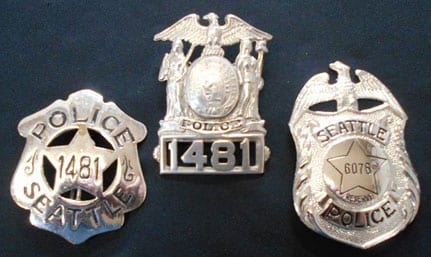 UPDATE: The Police Museum lost it's lease and is no longer in Rockaway Beach as of 2021
From childhood games of cops 'n' robbers to watching "Cops" on television, people are fascinated by police work. But it isn't a game and it's not like television, and on the Oregon Coast, the International Police Museum in Rockaway Beach helps tell the real story.
"Not everything we do is putting people in jail," said Ed Wortman, the former police chief of Rockaway Beach and a museum board member, whose personal collection from his long career in law enforcement makes up the bulk of the exhibits. "The majority of our job is helping people."
The museum at 212 Highway 101 North has a Facebook page showing many of its displays, with historic and modern items from around the world including uniforms, restraints, badges, weapons and other tools. Visitors can try on garb including police hats and bulletproof vests. And Oregon gets a special nod in an exhibit on women in law enforcement. "Penny Harrington was the first female chief of a major metropolitan U.S. city, and that was in Portland," said Wortman.
Wortman said kids enjoy "the bear game," with "Sergeant Teddy Bear, Officer Blue Bear, Officer Orlando Bear, Officer Small Bear, Officer Black Bear, Detective Salt Lake Bear and Detective Brown Bear" hiding in the cases and needing children's help to find clues, people or items.
Admission to the museum is free. "We do ask for donations, but we're a free museum," Wortman added. "We're one of the few things you can do in Rockaway Beach that is free, and it is dry in the rain."