Don't be fooled by the name; there's nothing little about the Little White Church Antique Shop. Except for maybe the parking lot.
Both vintage and new items
A trip through Rockaway Beach is worth a stop at this charming antique shop with both vintage and new items and more than a dozen vendors. With new (and used) inventory always arriving, every time you pop in you never know what you might find. Except for the free hot coffee – that's always there.
Just make sure you're not in a hurry because every nook and cranny is filled with eye-catching treasures that unfold as you walk down the hallway and meander through each room of vendors.
Displays change with the seasons and holidays
The at this antique shop, displays change with the seasons and holidays, and there are great decor items, and gifts for all kinds of occasions – even handmade and repurposed items, home accents, and both shabby-chic and vintage pieces that make the perfect statement. Whether you love the industrial farmhouse look or prefer French Country, it's impossible to walk in without also walking out with a carefully-wrapped and packaged treasure.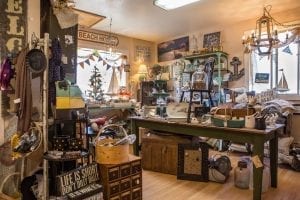 Little White Church Antiques is open every day from 10 – 5, and is located at 344 US Hwy 101. Find them on Facebook.