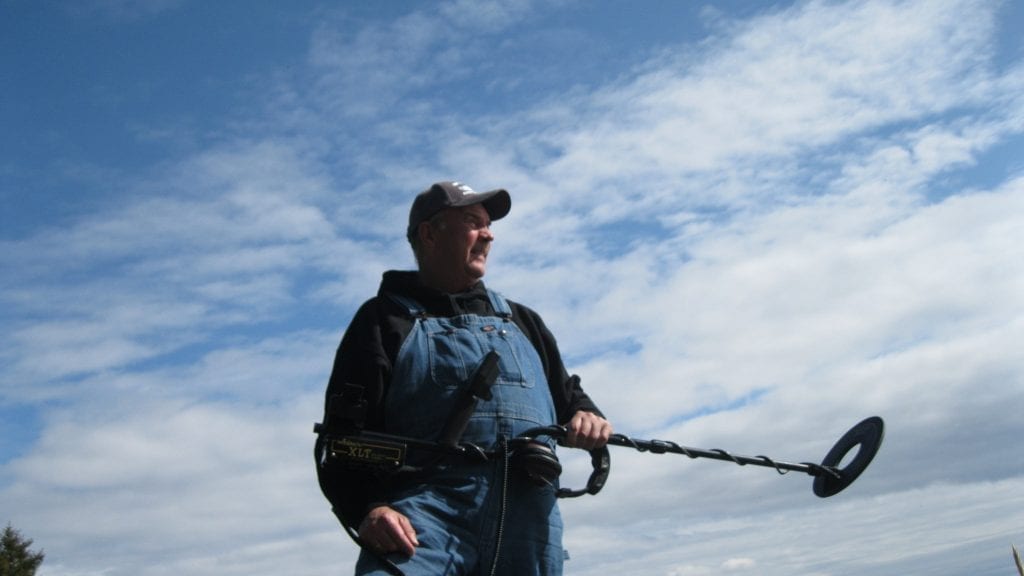 Buried treasure, the legendary riches hidden by pirates, is a part of mythical lore. According to popular belief, pirates buried their stolen fortunes in remote places for safekeeping. For the most part, this tends to be more fiction than fact. That hasn't stopped intrepid explorers from searching, and the beaches of the Tillamook Coast are a haven for metal detecting enthusiasts.
Nehalem resident Richard Mulcahy spent 31 years teaching writing to Neahkahnie High School students. As his career wound towards retirement, he wondered what he would do with the extra time on his hands.
Mulcahy was given his first metal detector as a Christmas present in 1997 and has been a fan ever since. "A friend of mine used to poke around with a metal detector for fun," Mulcahy says. "We'd go out together and find a few old coins and a couple gold rings here and there. It was a great way to pass the time."
Winter storms bring big finds
Over time, Mulcahy realized that beneath the beach sand and river rocks was a veritable treasure trove of lost and forgotten items. "When I started metal detecting, I never recovered anything too spectacular. I was just having fun," he says. "But the more I looked, the more I found."
As he became more familiar with the ins and outs of metal detecting, Mulcahy began branching out to all parts of the Oregon Coast "It's a lot of legwork," he said. "I've spent a lot of time combing the Tillamook County fairgrounds. And nothing beats combing a beach after a fresh series of winter storms."
While Oregon State Parks used to allow unimpeded detecting, much of that has since been curbed. "A lot of that has to do with safety concerns, like buried electrical cables. There's also the issue of disturbing potential archeological sites," Mulcahy says. "I would encourage everyone to check park rules before you go."
Reuniting lost treasures
Mulcahy realized that while finding coins and rings was exciting, they may be missed by their owners. To that end, he transitioned into a beach sleuth, lending his services to individuals who had lost something valuable. "It morphed into a hobby/business," he says. "I had a card made up and passed it around to local merchants, chambers, hotels and police stations. I've picked up quite a few referrals." Dubbed Metal Man Services, Mulcahy has kept extensive photographs and journals of all his finds.
Besides rings and coins, Mulcahy has come across some unique odds-and-ends as well. "I've put together a nice collection of vintage toys, which always come in handy at Christmas," he says. "I've got more fishing lead than I know what to do with." Among the many items he's recovered: various tools, souvenirs from local shops, flashlights, iPads, and coins and tokens from all over the world. Best of all, Mulcahy has been able to return around 40 items back to their owners, many of them having gone missing years ago. Still on his wish list? Spanish shipwreck coins or New England colony coins from the 1600's, which aren't found on our coastline.
One of the strangest items Mulcahy has found are gold dental crowns, some made of 18 karat gold which is no longer used in dental care. "The mystery writer in me can come up with the start of a good novel for that one," he said.
Operating a metal detector
Mulcahy stresses that metal detecting is educational and easy. "It's something anyone can do, rain or shine" he says. "The detectors are fairly easy to operate, and come in all price ranges. Definitely do your research and read the instructions."
There are, Mulcahy says, many good metal detectors available. He has used a number of different units from White's Electronics since 1997, though he recently switched to Minelab's CTX 30-30 and their underwater unit, the Excalibur II.
Mulcahy calls his detecting routine his gym, providing him with a good workout. He also treasures the many friends he's made, including KGW's Grant McOmie, who filmed a segment of "Grant's Getaways" featuring Mulcahy.
Best of all, helping find lost items comes with its own set of incalculable rewards. "It's a special feeling to help someone reclaim something they thought was lost forever," Mulcahy says.
To find out about the rules of metal detecting in Oregon State Parks, visit Where can I metal detect? (Oregon State Parks)
Metal Man Services can be reached at (503) 812-5449