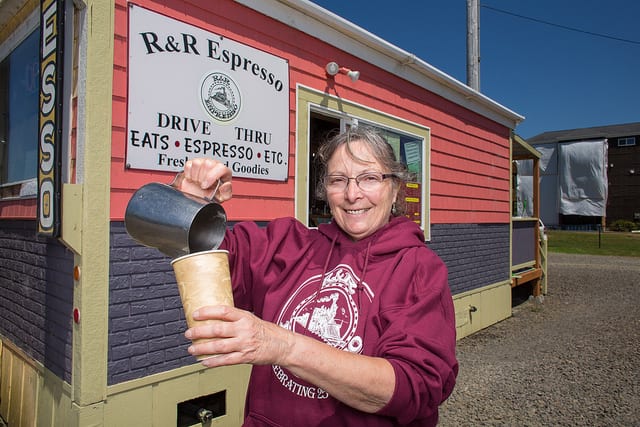 Since 1992, Gloria Robben has been helping the people and visitors of Rockaway Beach be their very best selves – by serving up delicious caffeinated beverages with a side of love.
Gloria moved here in 1991 and decided to open her own coffee shop the next year. Originally located in the downstairs portion of what is now Offshore Grill, R&R Espresso was born. For nine years Gloria focused on bringing drinks and smiles to her customers.
"One thing I loved about that downstairs cafe was I had time to get to know my customers on a personal level and really visit with them," she said.
Later she remodeled the upstairs house into a cafe and breakfast house that was eventually called Morning Glory Cafe.
When Gloria sold her cafe in 2008, she left the area for a few years to try something new, but Rockaway Beach always had her heart.
"When I heard the espresso drive through in Rockaway Beach was for lease and no one was even running it, I decided to contact the owner," she said.
In 2011, Gloria had moved back and taken over the coffee kiosk under her original name R&R Espresso.
"People knew me by that name, and I already had an established reputation in the area," she said.
When she took over, Gloria said a lot of her old customers heard she was back and started coming by to see her.
"It was like coming home," she said. "I love being back."
And, she loves being out of the restaurant business. "This is so simple and I still get to do all the things I love," she said.
Things like baking, and of course visiting with her customers.
R&R Espresso specializes in home baked goods and is locally famous for its strawberry rhubarb coffeecake. Along with other coffee cake varieties, Gloria also bakes up delicious scones including the ever-popular bacon and cheddar. Also on the menu are breakfast burritos, egg and bagel sandwiches and a few lunch items like burgers, a teriyaki chicken sandwiches and gyros.
She has a variety of delicious drink specials on her menu, such as the Bird of Paradise, a smooth blend of raspberry, white chocolate and vanilla. Or, for the more daring coffee lover, try the Tsunami with a whopping four shots of espresso.
R&R Espresso is open daily from 6:30 a.m. – 2:30 p.m. during their winter hours.