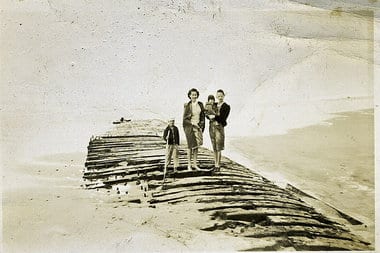 It was 1945. Rockaway Beach resident Don Best was just over a year old when he stood in the arms of his mother on top of the remains of the Emily G. Reed shipwreck for a picture.
Back then, the remnants of the 110-year-old shipwreck were a more common sight on the beach than they are today. Now the sands shift every half a dozen years or more to reveal a few of the ship's ribcage, and each time they do – that picture of Don Best and his family also makes the rounds.
It's probably no coincidence that around here, Don Best is our local historian. Now in his 70s, his mind is sharp as a tack and if it happened in Rockaway Beach (or Tillamook County for that matter), he probably remembers it. And he's more than happy to talk about it.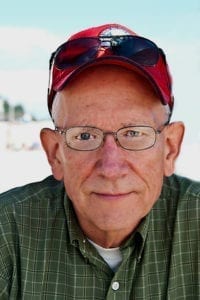 If he doesn't remember it himself, he remembers a story. Whether it was swimming in the old Natatorium that now rests below the Wayside or the once grand Lake Lytle hotel. And of course, he's a local expert on the Emily G Reed.
"One time it came out more than it usually does," he told The Oregonian. "It was like a big rib cage laying on the beach. I was about 8 years old. I dug on one side and I found out there was an air pocket underneath that rib cage. I went home and got my flashlight and slid on my belly under the ship. I thought at the time, 'No one has seen this side of the ship since 1908.' Somebody said, 'Did your mother know that you did that?' And I said, 'No, and she still doesn't know I did that.'"
They don't come more Rockaway Beach than Don Best. His grandfather came by wagon in 1910. It was a two-week journey along the treacherous Wilson River Trail from Portland. Don himself served in the Navy before becoming a freelance photographer, where after all these years he's still capturing the breathtaking beauty of his hometown.
Through his stories, Don is keeping his beach town's rich history alive for the next generation to enjoy, and through his photography, he is continuing to preserve the glory and splendor of our coastal area.