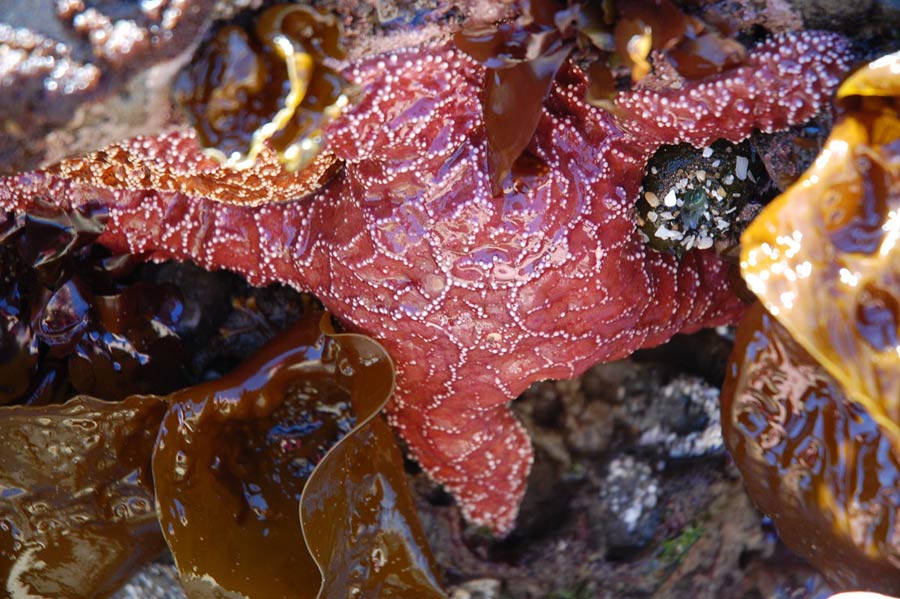 Minus tides during the Spring offer some of the richest, most vibrant tide pooling opportunities all year long. These rare pockets of time do not last long, but are worth exploring the intertidal communities that thrive between the shore and the ocean. The very best low tides are during the full and new moons – also known as "spring" tides.
These tide pools are exposed when the ocean water retreats far enough from rocky areas, leaving behind pools of water that collect in holes and crevices. Inside these tide pools entire villages of brightly-colored, incredibly resilient creatures live. From sea stars to anemones, barnacles to mussels, each is equipped with the survival skills to withstand low tides and exposure to sun – and even visitors.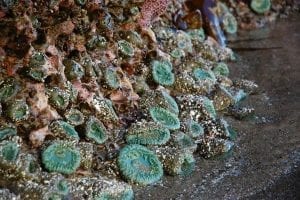 Tide pools are an opportunity to glimpse into the many personalities and colors that reside in the ocean without investing too much time or money to see them. Just remember to be respectful while you're there. Particularly be careful where you step. These pools, while fascinated to experience, are the home to many fragile creatures. And just as you wouldn't want your home to get stepped on, neither do they. It's ok to look and even get close, but just watch where you're stepping and avoid crushing any sea animals who are being generous enough to allow visitors into their sanctuary. These creatures, while resilient, are not indestructible. And by stepping on or removing anything from the pool, you could be causing irreversible damage to this delicate ecosystem.
Bring your camera so you can remember the day, instead of removing anything from the tide pools. The longer you stay and watch, the more you will see. At first it may seem like the crustaceans are sleeping, or at the very least anti social. But the more you watch the more you will start to see them interacting with one another.
Barview Jetty and Nedonna Beach are the closes intertidal areas, offering excellent places to find tide pools at low tide.
This rocky area is located just inside the mouth of Tillamook Bay. The intertidal area is small, but offers large boulders, which provide habitat for many common intertidal species. Parking is limited, and visitors must cross a railroad right-of-way to access the intertidal area.