For many, February is the most romantic time of the year, with cards, chocolates and flowers handed out in groves.
In Rockaway Beach, February has become a time of remembrance; for you see it was on Valentine's Day 112 years ago that a 215-foot sailing vessel ran aground just off our sandy shores.
As the legend goes, it was  an incredibly foggy Valentine's Day morning. The Emily G Reed had set sail from New Castle, South Wales, and was at sea 102 days before it wrecked, snapping in half and killing as many as eight people. A lifeboat carried four men out to sea where three of them were found alive more than 200 miles away. The captain and his wife survived by clinging to some of the wreckage overnight. By morning, they realized how close they were to shore and were able to swim to land.
The remnants of the ship that washed ashore in Rockaway Beach stayed visible for decades. In fact, it was a staple on our beach for nearly 50 years.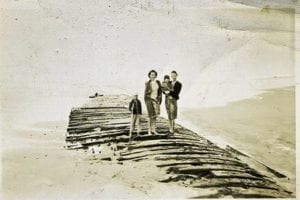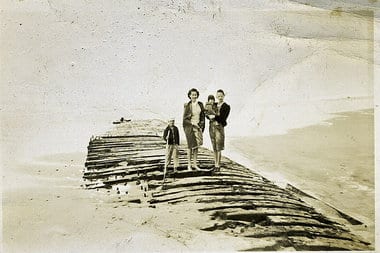 Rockaway Beach resident and local historian Don Best remembers growing up as a child and playing on top of the shipwreck. Best was born in 1943, and many of his earliest memories were of the wreck. He even recalls a time when he was about 8 years old and found an air pocket underneath the "ribcage." He slid underneath the wreckage with his flashlight, and for the first time since 1908 a pair of human eyes saw that side of the ship.
And back then, it wasn't illegal to remove pieces of the shipwreck from the beach, so much of it was salvaged, or "looted." However today, the remnants are protected by law as with any ship wreck, and removing any piece of it is illegal.
Nowadays, it is much more rare to see any part of the Emily G. Reed. By 1975, all pieces of the wreckage were completely covered with sand, and are usually only uncovered every few decades or so. Yet Rockaway Beach residents have reported seeing her poking up out of the sand at low tide. This time is particularly rare, as Emily G Reed was also visible this time last year – for nearly two whole months.
Some days it was only a loan board that looked more like a piece of driftwood and nothing to write home about. You might even miss it if you didn't know what you were looking at. Other days you could count as many as 23 or more boards that looked like a wooden ribcage. But everyday when you walk down to the beach from Second Street, you are walking on top of the remains of one of the Oregon Coast's most tragic shipwrecks.
If you happen to find yourself in the presence of the legendary Emily G. Reed, just remember to only take pictures and memories with you.