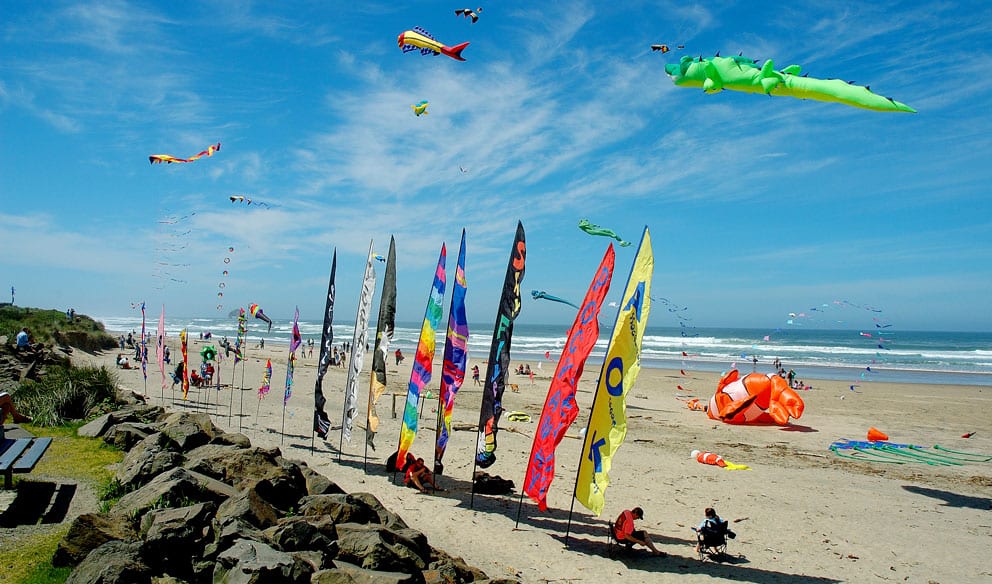 Just when you think the rain will never leave, the clouds part and the sun shines down on its favorite little beach town: Rockaway Beach. Everything looks brighter in the sunshine, and with it means the return of visitors and beach-lovers looking to soak it all in. 
This summer, don't forget to incorporate these five can't-miss adventures into your trip to Rockaway Beach.
4th of July Celebration
There's only one place to watch the best fireworks display on the Oregon Coast – possibly the state. That's right, Rockaway Beach. We are pretty easy going about a lot of things on the coast, but if there's one thing we take seriously it's our 4th of July celebration. Around here we believe if you're not going to do it right, don't do it at all. 
The day begins by shutting down Hwy 101 for a marvelous parade. Come out and cheer on the many floats, just be sure to grab your seat early for the best view in the house. Then, take to Phyllis Baker Park for the fast-paced (and hilarious) Weiner Dog Races, or hit the Wayside for delicious food, home-baked pies, fire works for sale and more fun games and activities. 
The real fun comes at dusk though, when everyone takes to the beach to grab a patch of sand, build a fire, and sit back and watch the panoramic fireworks display unlike anything else on the coast. If you see it once, you'll never be satisfied with another fireworks show again – seriously. It's that good. But you just have to see for yourself. 
The Annual Kite Festival
Once a year the American Kiteflyers Association take over our beach at the Wayside and fill the sky with kites, floats, and all kinds of colorful flying objects. If that wasn't enough, the Wayside fills with vendors selling all kinds of yummy foods, unique crafted items and games for the kids. Purchase your own kite and test out the wind, or just sit back and relax while you watch the floating shapes and bright colors. The Sanddollar Restaurant & Lounge has a perfect view of the event each year.
Go Crabbing
Novice crabbers and experienced crustacean catchers all convene at Kelly's Brighton Marina every year. Why? Because the crabbing is some of the best on the coast, and the company is even better. Take a tour with Kelly himself and learn the art of catching, cooking and eating crab. Kelly makes everyone feel like a part of the family, and can tailor fit your experience to be hands-on or hands-off depending on what you need. Just be prepared to spend all day because you won't want to leave! 
Kayak Lake Lytle 
There is nothing more relaxing than gliding across the water in a kayak. Not all kayaking locations are created equal, so if you're new to the outdoor recreation, Lake Lytel is a perfect spot for beginners. It's soothing, yet big enough to get your fins under you. It's also a great birding spot, as migrating birds will pop in for a quick respite on their way down the coast. Kayaking is a safe way to enjoy these birds in their natural habitat without disturbing them.
Visit the Largest Western Red Cedar in Oregon
Hidden behind Rockaway Beach in a lush coastal forest of old growth trees is one of the largest Red Cedars in Oregon. At over 150 feet tall and 49 feet in circumference at the base, it's a sight to behold. Thanks to a boardwalk that wraps around the tree, you can view it from every angle without damaging it. And now, thanks to a new and improved board walk that takes you to a viewing platform you can enjoy the tree without trekking the half mile trail.