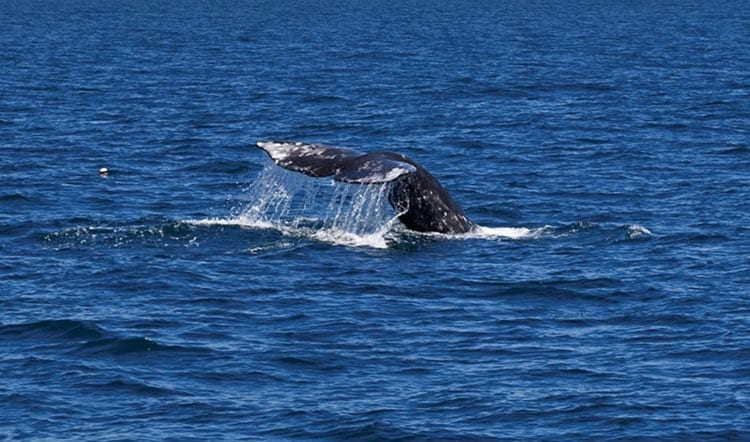 You might not realize it upon first glance out toward the ocean, but hundreds of Gray Whales are migrating past Rockaway Beach right now.
Literally – right now.
This time of year, these majestic creatures begin their journey back home to Alaska, taking with them their newly-born calves. These whales are some of the easiest to spot on the Oregon Coast, because their twice-a-year migration brings them closer to shore than other whales.
Gray Whales swim more than 10,000 miles round-trip each year between their feeding grounds near Alaska to the warmer waters of Baja California, Mexico where they spend the colder winter months. They cover roughly 100 miles a day!
On average, each migration brings about 18,000 gray whales passing within five miles of the Oregon Coast. They leave for Mexico in December when the female whales are pregnant – and up to 30 whales an hour pass by Oregon during the south-bound migration.
By spring, the new mothers and their calves are ready to make the long trek back home, this time often swimming even closer to the shore to avoid predators. (Sometimes within half a mile of shoreline!) This north-bound migration tends to be slower than the one in the winter, but your chances of seeing whales up-close is more likely – especially if there is danger afoot, as whales will move their calves closer to the shoreline to protect them from killer whales.
For more information and to find the best vantage points around Rockaway Beach, visit the Whale Watching Spoken Here website. Twice a year, they host a Whale Watch Week where volunteers help visitors spot whales and explain their migration patterns. The Spring 2019 Whale Watch Week takes place March 23-31. For more information, visit Oregon State Parks.