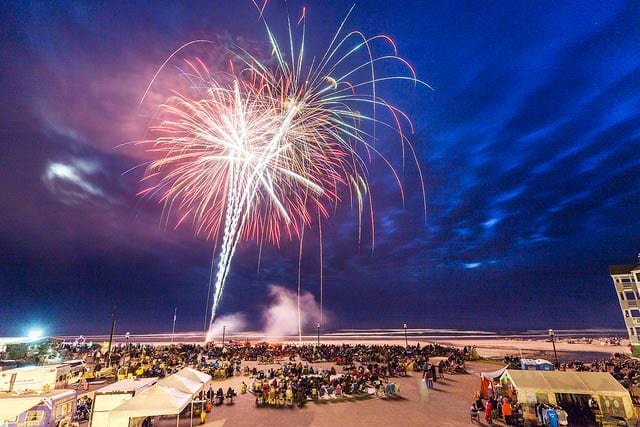 A New Year is right around the corner and that means it's time to set your New Year's Resolutions. While you're at it – plan a trip to Rockaway Beach, and discover something new and fun for your whole family.
We've compiled a list of some of our favorite things to do in Rockaway Beach to help you plan your trip. Trust us, these are all "must dos" for the New Year.
Ride the Steam Train to Rockaway Beach
There is something romantic and adventurous about catching a steam train and being whisked away at the sounds of antique metal creaking. Thanks to the Oregon Coast Scenic Railroad, you can enjoy the nostalgic call of the steam whistle as the train chugs along the coastline from Garibaldi to Rockaway Beach. The train begins running in the Spring.
Fly a Kite with Professionals
Each year in August, professional and amateur kite flyers take to the beaches in front of the Wayside and fill the skyline from end to end with colorful kites and inflatables billowing in the breeze. Sit back and relax on a bench, or watch from the deck of the Sand Dollar Restaurant and Lounge as hundreds of kiters spend the weekend performing tricks and showcasing their skills. Or, bring your own kite and learn from the best.
Watch the Greatest Firework Display on the Coast
Seriously, if you've never been to Rockaway Beach on the 4th of July then you are celebrating the holiday all wrong. With a morning parade, vendors selling fireworks and freshly baked pies at the Wayside, a fast-paced (and hilarious) game of wiener dog races at Phyllis Baker Park – we celebrate all day long and well into the night. By the time dusk arrives our beach is filled with people and bonfires as everyone waits to see what's been dubbed the best fireworks display in the country by USA Today and Coastal Living Magazine.
Hike to the Largest Western Red Cedar in Oregon
Hidden behind Rockaway Beach in a lush coastal forest of old growth trees is one of the largest Red Cedars in Oregon. At over 150 feet tall and 49 feet in circumference at the base, it's a sight to behold. Thanks to a boardwalk that wraps around the tree, you can view it from every angle without damaging it.
Go Crabbing at Kelly's Brighton Marina
Just north of Rockaway Beach is a family adventure that's fun, challenging, and takes place outside – and at the end of it, you get to eat fresh-caught crab! Kelly's Brighton Marina is the perfect spot if you've never been crabbing before because the owners love to teach people how to crab and share their love of these delicious crustaceans. They'll even teach you how to cook your crab. Whether you stay on the docks or go out on a boat with Kelly himself, put "trapping crabs" on your 2018 bucket list.