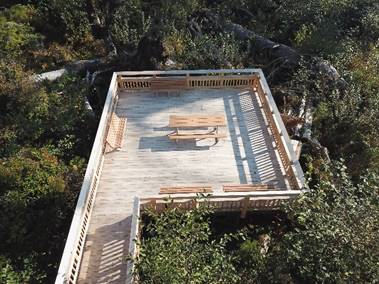 There are many ways to get outside and enjoy the sunshine and fresh coastal air and perhaps none are as enjoyable as simply going for a walk. Whether for health reasons or just to enjoy the natural world around you, walking brings people together and has been proven to improve self-perception and self-esteem, mood and sleep quality, as well as reduce stress, anxiety and fatigue. 
When in Rockaway Beach, try some of our favorite places to take a walk: 
Wetlands Cedar Preserve
While the Wetlands Cedar Preserve has been attracting hikers for nearly 20 years, the recent completion of the boardwalk has made it much more accessible to folks who want to stroll atop the wetlands and enjoy it from above. The gorgeous boardwalk is a flat stroll for a quarter mile to a viewing platform where you can witness in person the Giant Western Red Cedar. There are benches and a picnic table at the end of the trail. This is a dog friendly path that glides over top of historic wetlands and underneath intertwined trees filled with singing birds and other wildlife. From the board walk you can spot Sitka Spruce, Western Hemlock, Western Red Cedar and Red Alder. 
The Twin Rocks Turnaround
While not a lengthy walk, this ADA accessible path is another hidden gem in Rockaway Beach. The paved trail leads you straight to the beach with Twin Rocks towering before you and the white, fluffy sand awaiting your feet. The Twin Rocks Turnaround at 905 S. Breaker Ave. offers a getaway from crowds and wind, in a stand of mature trees and native roses marking the former homesite of original Twin Rocks postmistress Edith Hart and her son Ed, both deceased, who deeded their land to Tillamook County as a public park.
NKN High School Track
Recently remodeled and updated, the track at the high school is an often overlooked choice for travelers who want to get a little walking in during their vacation. The newly-replaced surface makes running and walking a comfortable breeze, and the views of wooded hills and mountains isn't bad either. 
The Beach
OK – we would be remiss if we didn't mention this obvious choice. With seven miles of uninterrupted sandy beaches, it's the perfect spot to get in a morning jog or just take a leisurely stroll. It's also a favorite spot for our four-legged friends to get some exercise in as well. Just remember that dogs require special attention when on the beach to keep them safe – as well as other dogs and people around them.