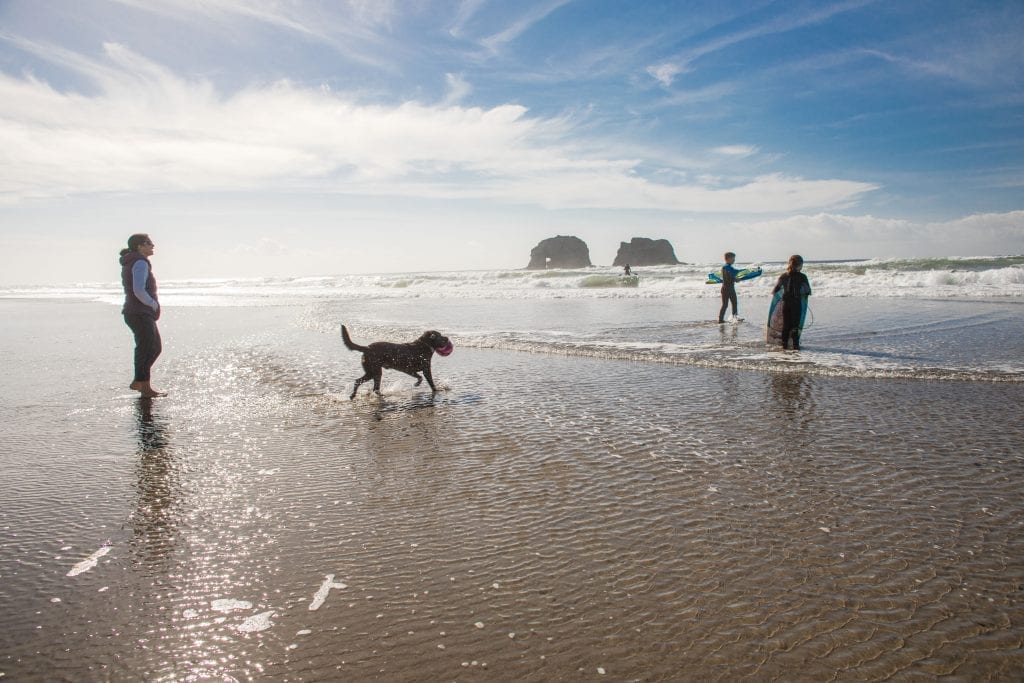 Picture this: You're in your car, driving the long and winding road to the Oregon Coast. For the next 48 hours, your time is your own. As you meander down Hwy 101, you are greeted by the four friendliest words: Welcome to Rockaway Beach. 
Sure we'd all love to have a week-long vacation in our favorite coastal beach town, but here is your weekend guide to Rockaway Beach. 
Coffee and treats at R&R Espresso: The first necessity of any good vacation is a delicious hot cup of coffee. Pull up to R&R Espresso north of town for your favorite caffeinated beverage. We also recommend grabbing one of the delicious pastries, made fresh in-house every day. 
Walk along the Beach: With your coffee in hand, it's time to get your feet in the sand. Head south to the Wayside with its ample parking and direct access to the beach. If you prefer to sip your drink and watch the waves, you can find benches and picnic tables overlooking the ocean, but we definitely recommend taking advantage of the seven miles of sprawling beaches and stretching your legs a bit.  
Antique Shopping: Head back toward town and hit up the local shops. You never know what you might find, but it's always worth a look at The Little Crow, Trash 'n Treasures, and of course Flamingo Jims for unique gifts, decore, vintage pieces and art. It's a bit of a drive south, but if you're in the mood for more shopping stop by Little White Church Antiques – with several rooms filled with different vintage vendors, and Warehouse 10 in Twin Rocks. (They're closed for the winter, so it depends on what time of year you stop by.) 
Dinner & Cocktails at the Sand Dollar Restaurant & Lounge: For dinner we recommend ocean-front dining at Sand Dollar Restaurant & Lounge, with their romanian-inspired cuisine, breads baked in house, and million dollar view. Try to get there just at sunset, or right after, for the best show. They have an extensive cocktail menu and desserts to die for. 
Breakfast at CowBell Cafe: The next day, go for a hearty breakfast at the CowBell Cafe. Known for their classics like biscuits and gravy, and the best bacon around, the CowBell Cafe is a classic American diner with a small-town feel. You'll love the cozy atmosphere and generous breakfast portions. 
Hike Through an Old Growth Forest: Now that you're filled with a delicious breakfast, head south to the Nature Preserve Walkway and enjoy a leisurely hike through an old growth forest. The boardwalk is an easy stroll, but if you're feeling more adventurous follow the signs to the Western Red Cedar. Depending on the time of year, the trail can be a little slick so be sure to watch your footing. The trail ends at one of the largest Red Cedars in the area,

estimated to be between 500 to 900 years old and is 154 feet tall and 49 feet around

Barbecue at Manhattan Beach: For lunch on your second day, how about a beach barbecue at Manhattan Beach, just north of Rockaway Beach? Grab all your needed lunch supplies at the Rockaway Beach Little Store and head out to Manhattan Beach for some classic beach grilling. Afterwards, take a stroll on the beach looking for agates, sand dollars and other tidal treasures that like to wash ashore here. 
Be sure to save this guide for the next time you're in Rockaway Beach! And let us know what are your favorite things to do when you're in town.